On Saturday, I flew into Tokyo as a resident of Japan for the last time. Sometime in the next few weeks, I'll step out onto my balcony and see this view once more, wish Roppongi Hills and Tokyo Midtown their best, and leave the apartment to the cleaners. Then I'm moving back to New York.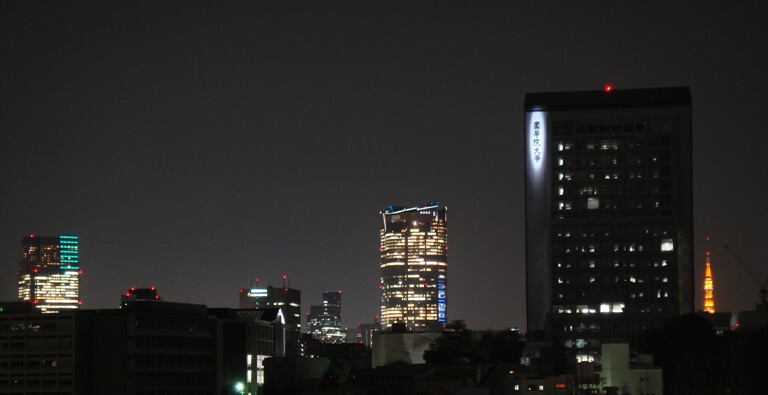 If you're a Westerner living in Asia, you have, at any time, at least a half-dozen friends who are trying to decide whether they want to leave or stay. It's just a topic that comes up a lot. Therefore, I was able to draw on a lot of advice, not all of it solicited. Most of the people whose opinions I valued echoed my Belgian architect friend (whose advice I did solicit, since he has a lot more experience with these things than I have): If you have experience working in Asia, you can always find a way to come back; but the longer you're away from home, the harder it is to find a way to return.
So I'm moving back. Taking a bit of a rest, staying with my old roommate in Murray Hill for a while, then getting a new job.
"Aren't you afraid it'll be hard to adjust?" I've been asked (and asked and asked). Yeah, sure. I've been in Japan my whole adult life. (I don't consider college and grad school adulthood–not when you're being funded by Mom and Dad or the Japan Foundation.) But people move to new places all the time. And New York is somewhere I've lived before anyway.
And yet…it's been a long time since I've lived in the States. When I last lived in America, Buffy the Vampire Slayer was still nothing more than a rather bad movie with Kristy Swanson. When the television show debuted and friends started raving about it, we saw it in Japan the way you saw American shows back then: friends sent videotapes.
I bought a few new CDs on their day of release a week or two after arriving in Japan: Bilingual by the Pet Shop Boys and Nine Objects of Desire by Suzanne Vega.
I don't remember which movies I first saw in the theater after coming to Tokyo. I do remember watching Alien Resurrection here when it was released. Japanese audiences are very quiet, so when the Winona Ryder character reappeared after being shot, my spontaneous cry of, "YOU'RE SUPPOSED TO BE DEAD AND OUT OF THE PICTURE, YOU ANNOYING B…" could be heard echoing through the theater until my then-boyfriend clapped a hand over my mouth.
That's how long I've been away. Yes, I see my friends back home at least once a year, and I'm in constant e-mail contact. And there are loads of things that make keeping in touch easier. Everyone has e-mail. (That wasn't true even in 1996.) You can download just about anything. (When was the last time I had to leave the house without 6000 songs stored on a device the size of a deck of cards? I don't even remember.) You can torture people with your vacation photos without even having them printed; just create and online album and e-mail the URL to friend and foe alike. But it isn't the same as being there.
I'm not focusing on changes in pop culture stuff because I'm unaware that there are more important things in life. It just, when you live far from home and contact friends to find out what's going on there, they assume you're watching the news. If someone brings up what Obama just said at a rally the other night, it's because they want to discuss it, not because they think they're informing you about something happening at home that you couldn't have heard about.
It's the new movies and music and restaurants and things they tell you about to help you feel caught up. (Books, too, but despite being someone who reads all the time, I generally have a hard time getting into contemporary fiction, so my friends have learned to stop recommending new novels to me.) Even if you find soap-opera-ish dramas tiresome, knowing that a lot of the people you know are watching Ally McBeal or (now) Grey's Anatomy and gabbing about it at brunch on weekends becomes meaningful. You're not participating in one another's daily lives, but you can at least feel secure in the knowledge that you're not becoming strangers.
So. Three weeks to settle things here. Then however long it takes to get settled back in at home. I'm looking forward to the culture shock in a way. It would be a bummer if America and New York and I weren't different after twelve years. And now that Japan seems to be cool again, maybe I can parlay my experience here into a hip, cosmopolitan demeanor that gets the men flocking to me.
Or maybe I'll just seem out of it.
We'll find out soon enough.