There's a favorite story on my mother's side of the family: My great-grandmother's sister came from Poland for a visit in the 1950s, and seeing the variety of goods in a typical neighborhood grocery store, she burst into tears.
Japan is a first-world country, so it's certainly not the case that I've become unused to variety. But of course, the brands are different, the diet is different, what appeals to people is different, the cumulative effect of surveying the aisles is different. Coming back to New York means readjusting my eye and palate to New York food sources. We were going to order from Fresh Direct, but last night we passed D'Ag's on the way home, so we stopped in. I'm afraid I kind of embarrassed my friend by giggling at everything, but I couldn't help myself.
It wasn't the type and distribution of products. Even from only coming home twice a year for the last decade, I'm still used to that. It also wasn't that anything and everything comes in 50-gallon-drum size, which wouldn't fit through the door of most Tokyo houses. I'm used to that, too. What got me was the evolution in some specific familiar stuff. The most improbable brands have gone upscale.
Cheer's curvy new bottles look as if they were inspired by ewers from Pottery Barn; I half expected each one to come with a little basin in matching plastic. For detergent containers, they looked invitingly touchable, almost ergonomic. (And, unsurprisingly, they're clearly aimed at the lady of the house, with filigree patterns in the background on each label.)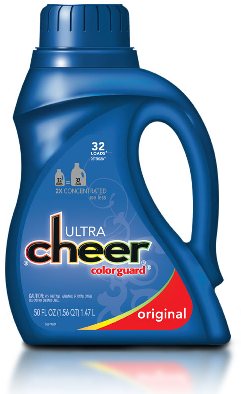 There are formulations for the stuff inside that I hadn't seen before, too. One is supposedly targeted at dark colors. (The brand concept was developed by "strategy and design teams fully immersed in darkness." Is that the most fabulous thing ever, or what? And I like the way "Cheer Dark" sounds like Near Dark , the Kathryn Bigelow vampire movie that reunited many of the most memorable cast members from Aliens .)
I was utterly bewildered by a product called True Fit:
Nothing can ruin laundry day like finding a favorite shirt has stretched to the point of no return. Help clothes keep their shape with Cheer® 2X Compacted True Fit™.

Love your clothes. Treat them right.
Personally, my solution to clothes that could get stretched out of shape is either to take them to a proper cleaner's or to use a mesh bag in the washing machine, but I love the idea that there's a detergent out there that's specifically formulated for them.
Also, Dietz & Watson? I grew up not far from Philadelphia, and to me, Dietz & Watson means hot dogs and kielbasa. But not anymore. The company introduces itself on its website with this VERY WRONG sentence:
Welcome to Dietz & Watson, home to the World's Best Meat Delicacies and Artisan Cheeses.
Or maybe it's not so wrong. Dietz & Watson was always a local, family-owned company that emphasized homely production values. It's just that it used to be assumed that those values appealed to local just-folks types; now, rebranded as "artisanal," they've moved up in the world.
I love the disdain that drips from every phrase on this page about condiments:
The World's Best Meat Delicacies and Artisan Cheese deserve better than that "same old yellow or spicy mustard, horseradish without a kick or sour pickles without a snap". So we created our Deli Complements™ with just that intention, to complement our meats and cheeses with enhanced flavor profiles to satisfy today's adult taste expectations.
Enhanced flavor profiles! For a range that includes something called "Sandwich Spread." I love it! What next–small-batch Cheez Whiz in earthenware jugs stopped with natural corks? (And psssst! Kudos to your marketing people for choosing the right spelling of complements for this context. Now they just need to tell your webmaster to fix the filename for the image. And guys, this is America: the period goes inside the quotation marks.)
Also, check out the gigantic sandwiches featured on the "Healthier Lifestyle" page.
Sorry. The Dietz & Watson thing really amused me.
*******
It's been rainy for the last few days, and one of the things I always notice about being back from Tokyo is how much better New York looks in the rain. The grey weather can still be depressing, but there's something about the presence of organic-feeling brick surfaces sprinkled through the built environment that makes it feel less off-putting. The relentless onslaught of steel/glass/concrete/tile in Tokyo can really drag you down. And sidewalks in the City are so wide that you can actually navigate down them with an open umbrella without maiming anyone.