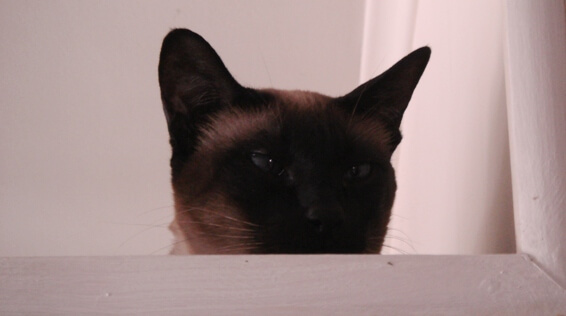 That's the sight that greeted me when I went, on rising this morning, into my parents' kitchen to see whether any of my father's first pot of coffee was still stewing. (It was. The man can't ride a roller coaster without going green, but his stomach can handle coffee that's been on the hot plate so long it's turned to crankcase oil.)
Good morning, Kitty. If you're going to ambush me from up there, could you please at least wait until I and put on my eye gel? I have this vague idea that well-hydrated skin heals more quickly when torn.
You all know about my ability to charm small pure-bred animals by this point. My parents' cats are no exception. Bear in mind, Ludwig, above, is the friendly one. Romeo, his father, is more beige and more crabby. Whenever I come home, he spends my entire visit–no joke–glaring at me with undisguised antipathy, as if I were going to make off with the silver unless under continuous surveillance.
Thanks to everyone who's asked after me since I haven't posted for a month; I'm grateful. Yes, things are fine. I doubt that I'm entirely adjusted to life back in New York even now, but coming home was the right decision. Without really planning it, I kind of took a rest from following news–either here or in Japan–to closely. I imagine I'll be posting more regularly soon.
For now, I'm being true to my Lehigh Valley roots and eating cake for breakfast. (How do people do this every day?) Tomorrow, I'm seeing some friends from high school for dinner and drinks–the sort of invitation I would have flung myself headlong in the opposite direction from up to a few years ago. Now, I'm kind of looking forward to it. Everyone seems well, and for the first time in twelve years, I'm not going to be the person coming from farthest away to the gathering.
In between, it's Christmas. Have a happy one, everyone.